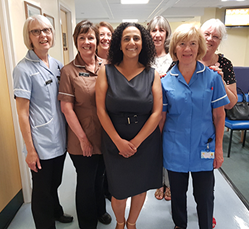 St Andrew's Symposium showcases centre's world-class work
The world-renowned St Andrew's Centre for Plastic Surgery and Burns is holding its annual symposium at Anglia Ruskin University on Friday 5 July.
The St Andrew's Centre, which has been based at Broomfield Hospital since 1998, provides burns services for 9.8 million people in East of England and London, and plastic surgery services for 3.2 million in this region.
In 2018 1,051 new adult patients and 821 new paediatric patients came to the centre.
Consultant plastic surgeon Mary Morgan is one the symposium organisers and said the event showcases the world-class work that takes place at the centre.
"The symposium is an opportunity to demonstrate all of the amazing work that is done at St Andrew's. We want to demonstrate the breadth of specialty, our pioneering work and our ground-breaking research.
"We've got world-class surgeons, we're a super-regional burns unit servicing 9m people, and we're one of the few paediatric burns ITUs. We also have a huge skin cancer department, do head and neck cancer reconstruction including facial palsy, and our consultants are leaders in their fields and are lecture across the world. We're supported by incredible nurses, therapists and administrative staff.
"We're one of the biggest breast reconstruction units in the UK. There was a recent report from BFIRST (the British Foundation for International Reconstructive Surgery & Training) that said as one single unit we are doing 16% autologous breast reconstruction in the UK – so we're more than punching above our weight. We have over 200 staff in St Andrew's – we're really a hospital within a hospital.
"The symposium an educational day for all the staff at St Andrew's, primarily aimed at the therapists and nurses. The ethos is to give something back to the staff as well as to educate.
"Despite the pressures, everyone in the department always gives their absolute best. I've never worked in a unit with such incredible nurses. We really are very privileged. I think our patients get fantastic first-class care."
After the success of the inaugural symposium last year, Mary says exciting plans are in place for 2019.
"This year we're trying to get all of the specialities who didn't really represent themselves last year – like cleft, and burns and paediatric services – to give presentations. Last year there were a lot of doctors and plastic surgeons talking but this year we've tried to hand it over much more to the nurses and therapists in order for them to demonstrate what they're doing."
All profits from the event go into the St Andrew's staff education fund. "We help nurses pay for their educational courses as traditionally they don't get study leave budgets like doctors do," added Mary.