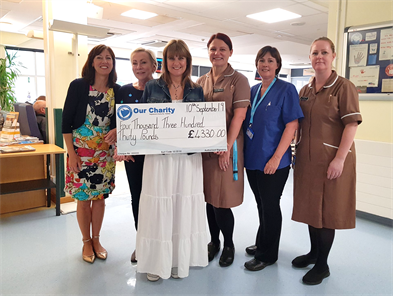 Patient Jacqui raises over £4,000 after 'brilliant' care at Broomfield and Southend hospitals
Breast reconstruction patient Jacqui Taylor raised £4,330 for Broomfield and Southend hospitals' breast teams to thank them for their care.
Jacqui was diagnosed with breast cancer after a routine mammogram at Southend Hospital in July 2018 and underwent surgery at Broomfield Hospital's St Andrew's Centre.
Jacqui held a fundraising afternoon at the Carousel children's nursery and pre-school she owns in Billericay. Friends and family gathered to enjoy afternoon tea, buy pre-loved jewellery, and have their nails done and fortunes read.
There was also a book seller, a baby clothes stall and ladies selling cakes, skin care products and scented candles.
Jacqui's fantastic donation will be split between Southend's Breast unit and Broomfield's Breast Reconstruction Awareness group.
"It's such a shock to be given a diagnosis like that but everyone was so kind, so considerate and so informative – all the consultants as well as the breast care nurses – they are brilliant," Jacqui said. "The nurses calm you down and really give you the understandable version of what the consultant has given you. They were really brilliant.
"The whole process was done with such a level of care, I felt really well cared for. Although I was scared, every step of the way, everyone was so good, so reassuring.
"At Broomfield, I had a mastectomy and a DIEP reconstruction all at the same time with surgeon Mary Morgan. Everyone from the woman who brought the food round in the morning to the nurses who took your temperature in the middle of the night, to the consultants – they were all so fabulous.
"I was given the all-clear at the end of last year and at the beginning of this year, once I started to feel more like my normal self, I really wanted to give something back and show my appreciation.
"I got together with a group of friends and we put the event together. It was a massive success. I was touched by everybody who was so generous and wanted to be part of it – it was just fantastic.
"I wanted to raise the flag for them and say what a fantastic job they do because you read negativity around the NHS but my experience was great.
Jolene Butcher, clinical nurse specialist for breast care, received the cheque and thanked Jacqui for her amazing fundraising: "Donations like this have a massive impact because although the NHS funds a lot of our service, all the extras we do for patients, like the BRA evenings and the selection of bras we have for ladies on wards, is thanks to fundraising.
"At the moment we want to raise money for a new tattoo machine because that will be the cherry on the cake for patients once they've had their reconstruction."