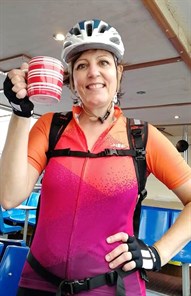 Patient Carol completes epic 400-mile cycle for BRA
Inspirational cyclist Carol Palmer completed a 400-mile solo ride to raise money for the St Andrew's Centre's Breast Reconstruction Awareness (BRA) group before returning to hospital less than 48 hours later to have her last reconstructive surgery.
Carol was diagnosed with breast cancer in February 2018 after a routine mammogram and has been treated at Broomfield by St Andrew's consultant plastic surgeon Mat Griffiths.
This June, Carol, Mat, and fellow breast reconstruction patient Louise Quinn were part of the team who cycled 197 miles from Broomfield to Bournemouth, but keen cyclist Carol had bigger plans and last week pedalled from Colchester to Cheshire and back in six days without any support.
The two events have now raised almost £6,000 for BRA.
How did Carol cope with such an immense challenge?
"I loved it. I had no punctures, no injuries, I loved every day. I covered seven counties in the first two days and I cried when I saw the sign for the Derbyshire border. I did 43 miles on day three to where my friend lives (at the halfway point), and had the afternoon off eating lots of Cheshire ice cream.
"On the Friday there was torrential rain and thunderstorms all day, but I did 71 miles to just outside Leicester – it was disgusting, I was so dirty.
"Day five was hard because of the crosswinds on the Fens but the Sunday, 61 miles home, was my hardest day. After 31 miles I was exhausted and laid on a verge on the side of the road. I put my backpack under my head, looked up at the sky and thought 'You've got twenty miles to go, you're nearly there'. When I got home, my husband and my two children were standing outside with banners and cakes. It was lovely."
Carol, who lost her sister-in-law to breast cancer in 2016, initially struggled to accept her diagnosis and described the shock as "immense". She decided to raise money for BRA to thank them for the support they have given her.
"I went to a BRA group meeting and I will admit it was horrible. You just think 'I'm not one of these people. Why am I here?' But I knew I needed to go and it's such a wonderful service.
"I saw the ladies there at show and tell and they were so brave. I could never stand there and take my clothes off and say 'This is what I've had done' but it was incredible. I stood there thinking, 'God, that's not me, I'm not going to have that done' but it was something I really needed at the time because at the forefront of my mind I was saying 'This isn't happening'.
"This bike ride was born when I was in hospital because I was down to do an eighty-mile ride last June but I was too ill, I couldn't do it and I was devastated. For the last year, this ride has kept me going.
"To have done my event having not finished my treatment and to go back to hospital, showed people I had mettle. It's such a horrible disease, I just wanted to say 'I'm better than that disease' and I wanted to do something to make a difference."
Surgeon Mat Griffiths was full of praise for Carol and has invited her back to talk to staff about her experience of surgery at a St Andrew's nurses' education day in October.
"Cycling from here to Cheshire and back is very impressive," said Mat. "Carol is very tough and has a very positive outlook. Some people completely fall apart when they get a cancer diagnosis but she's dealt with the diagnosis, the surgery, the reconstruction, and some revision surgery.
"Carol is very honest and she shows that exercise is great way of destressing and collecting your thoughts. Getting out there and doing something physical is good for the body and good for the mind. She shows what can be achieved."