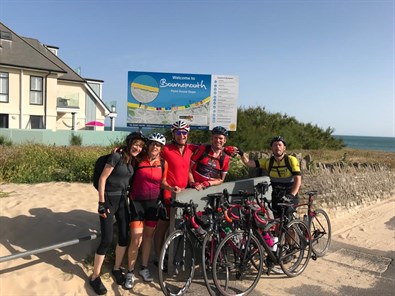 Broomfield to Bournemouth cycle raises thousands for BRA
Consultant plastic surgeon Mat Griffiths and his patients Louise Quinn and Carol Palmer pedalled an incredible 197 miles over two days from Broomfield Hospital to Bournemouth to raise money for Mid Essex Hospitals Charity's Breast Reconstruction Awareness (BRA) fund.
The team set a fundraising target of £2,000 but passed that with ease and are now nearing £4,500.
Mat, Louise and Carol were joined by Carol's cycling partner Bill Chapman, and Andy Wightman whose wife Mary Morgan is a plastic surgeon at the hospital. On day one, breast reconstruction nurse Jolene Butcher and her husband Russell also cycled with the group.
The team set off at 7am on Wednesday and reached their final destination of Bournemouth – location of the summer meeting of the British Association of Plastic, Reconstructive and Aesthetic Surgeons – the following afternoon.
On the way they stopped off at the plastic surgery unit at Queen Victoria Hospital in East Grinstead, and Queen Alexandra Hospital in Portsmouth.
Mat Griffiths said: "It was a glorious ride with a great bunch of people. We all got on very well. Doing that distance in this weather with the wind behind us was absolutely fantastic. We were very lucky and we've had some very generous donations.
"Louise and Carol are great examples of not just getting through complex treatment but getting to above average levels of functioning and fitness."
Louise Quinn, who lost her twin sister to breast cancer whilst she was undergoing her own treatment, said: "The camaraderie was great. The five of us got on really well, everybody supported each other, there were no injuries, and the navigation was superb! I've never done a cycle this big before but it's really inspired me to do more.
"The hardest part was setting off again after lunch but as soon as we had some Jelly Babies and Fruit Pastilles we were away."
For Carol Palmer this event was the warm-up for her own 400-mile cycle to Cheshire and back for six days in July.
She said: "It was tough but I really enjoyed it. The hills were a killer but I had a really great time."
If you would like to donate BRA, please click on the links to Louise or Carol's fundraising pages: https://www.justgiving.com/fundraising/Louise-Quinn24 or https://www.justgiving.com/fundraising/carol-palmer6